An affiliate of the National Council of Teachers of English (NCTE), IATE serves professional teachers of English at all levels, elementary through college, throughout the state of Illinois.  We offer a variety of activities and publications, most notably our annual fall conference. IATE members also participate in regional activities throughout the year and serve on standing committees that promote the interests of IATE and its 1200 members.

Arranged by districts across the state, IATE provides a lively network for the exchange of teaching tips, current research, and professional development – as well as enduring friendships.
2018 Fall Conference
Register   /   Hotel   /   Conference T-Shirt   /   Sponsors  /   Program   /   Speakers   /   Authors Dinner

It's time to register for the 2018 Fall Conference! 
In the daily grind of life in the classroom, it's essential to make time and space for yourself and your students as whole people. At this year's fall conference, the Illinois Association of Teachers of English invites you to spend two invigorating days connecting with fellow educators as we share techniques that honor our diversity, methods that clear the path for more meaningful collaboration, and practices that give us peace of mind or time for self-care.  October 19- 20, 2018 in Hoffman Estates.

meet this year's speakers

IATE's Mission
The mission of the Illinois Association of Teachers of English is to improve the quality of instruction in English at all educational levels; to encourage research, experimentation, and investigation in the teaching of English; to facilitate professional cooperation of the members; to hold public discussions and programs; to sponsor the publication of desirable articles and reports; and to integrate the efforts of all those who are concerned with the improvement of instruction in English.
---
 Fall 2018 Newsletter Available!
---
To access the PDF of the current newsletter, please log in and then click the link that appears below to logged-in members.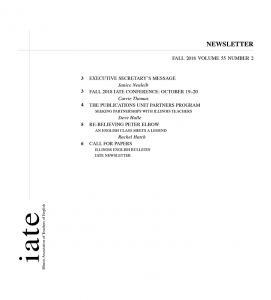 ---
Featured Resource

Take a look at the links the NCTE and ReadWriteThink have provided at our new resource page, "NCTE's ReadWriteThink Resources," available through the Resources tab.
Easy Donating
If you would like to make a financial donation to IATE, you can do so by simply clicking the Donate button.
---